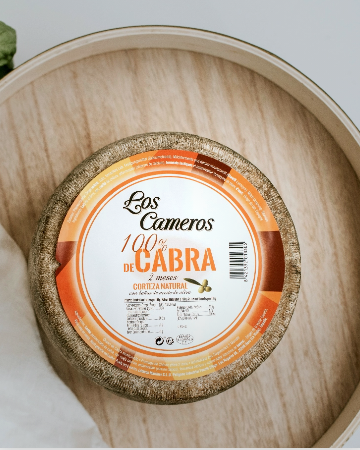 Also available in Sliced Wedge 200 g
SEMICURED GOAT CHEESE LOS CAMEROS
When you taste this goat cheese Los Cameros, its full and intense flavour fills your mouth and remains subtly, pleasantly and for a long time.
Its natural rind is the result of combining the development of beneficial moulds with olive oil baths. It preserves and keeps every scent, becoming a delicious and tasty cheese. 
The territory where the goats graze is called Sierra de Cameros. Thanks to its altitude, vegetation and weather, there are the propitious circumstances for the goats to graze freely and leisurely. This environment contributes to their well-being and to the elaboration of a cheese different from the rest, with some own unique characteristics and an authentic personality.
Tasting notes: Light notes of acidity, typical of the goat's milk, and a deep flavour make this cheese really pleasant and tempting at any time of the day. The salt's right amount and the clean lactic nuances remind of mountain, wild herbs and natural pastures.
DO YOU KNOW ALL OUR CHEESES?